The foundation
Contacts and Information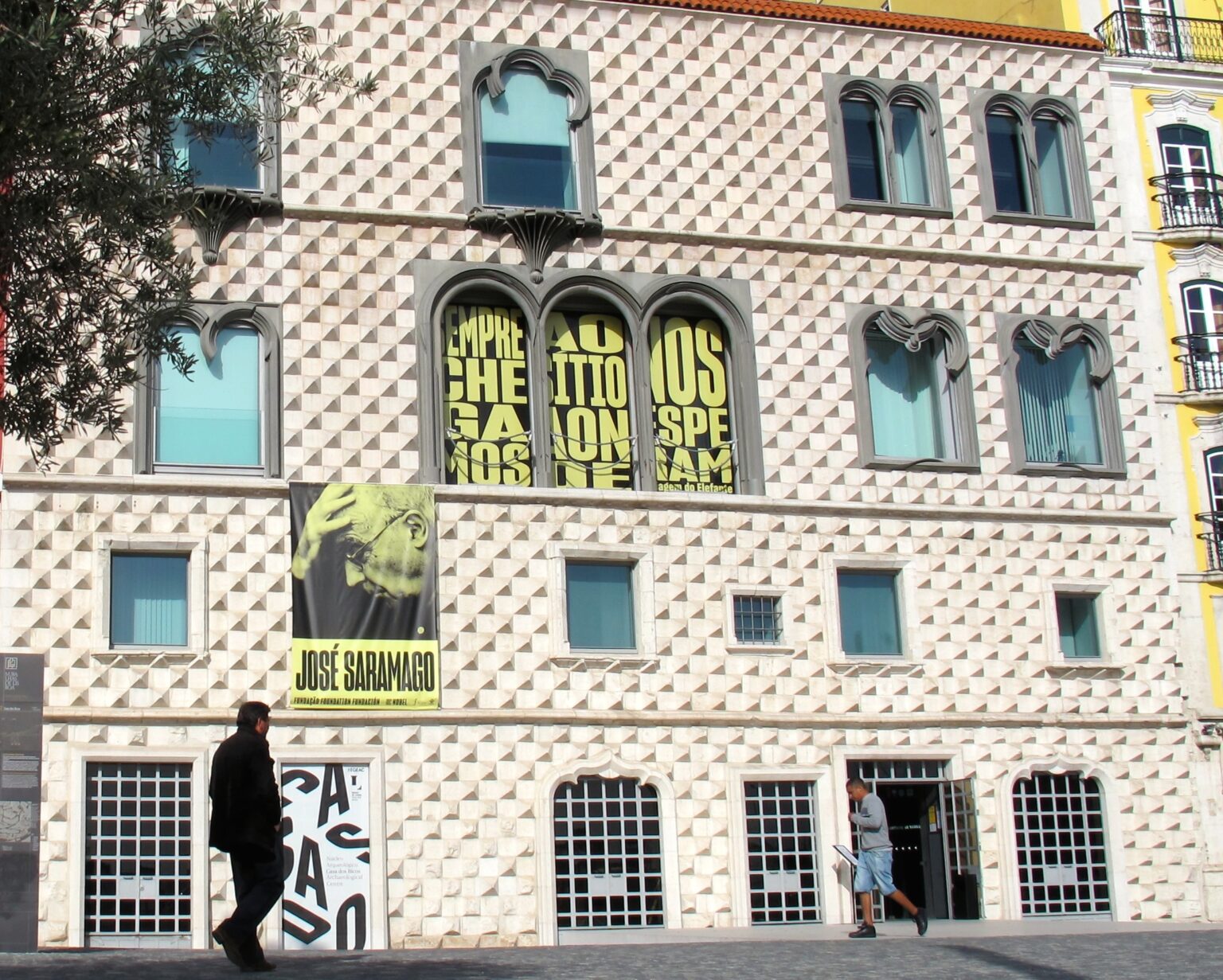 Address and opening hours
Casa dos Bicos - José Saramago Foundation Headquarters
Rua dos Bacalhoeiros, 10, 1100-135 Lisboa
Tel. (+ 351) 218 802 040
secretaria@josesaramago.org
Opening hours
From Monday to Saturday, from 10 am to 6 pm
(Last entry - 17.30 h)
Appetizer
Normal ticket - € 3.00;
Family ticket - € 8.00 (Up to a maximum of 2 adults);
Student ticket (student card required) - € 2.00;
Visita guiada para grupos escolares (até 30 alunos) – 60,00 € (por marcação);
Entradas para grupos não-escolares – Sem visita guiada – 2,00 € por pessoa | Com visita guiada – 4,00 € por pessoa (por marcação) | Séniores – 3,00 €;
Visita guiada individual (por marcação) – 6,00 €.
Free admission - children up to 12 years old, over 65, researchers of José Saramago's work (by appointment), unemployed, and "Amigas / Amigos de José Saramago".
Special agreements - LisboaCard: Regular ticket € 2.00; SmartVisit and YellowBus: Regular ticket € 2.40 (only applicable to regular ticket); INATEL members 15% discount (applicable to the normal and family ticket, extendable to the household and family members of the 1st degree of the INATEL Member upon presentation of the valid and updated card); Partnerships established under the "Amiga / Amigo de José Saramago" Card.
The House of Beaks
The Casa dos Bicos, a building that Brás de Albuquerque, son of the Viceroy of India, Afonso de Albuquerque, had built in 1523, after a trip to Italy, modeled after the Diamond Palace in Ferrara, since June the headquarters of the José Saramago Foundation in 2012. Although it is legitimate to assume that its first owner would like his house to have the same name, the opinion of the people of Lisbon at the time was different. Where some would want to see diamonds, they saw nothing more than stone beaks, and, as usage is law, since they called it Casa dos Bicos, dos Bicos stayed and with that name entered history.
Over the years, the house served different functions, both private and public, being even used, for some time, as a cod store. Until 2002, it hosted the Discovery Commission, an entity that coordinated the activities with which Portuguese travels were celebrated, a fundamental landmark in the knowledge of the world as we see it today.
The José Saramago Foundation wants this emblematic building to be a public space where exhibitions, recitals, conferences, courses, seminars are held, so that its facilities are placed at the service of culture. The House is open to the public, thus putting an end to a long period in which neither Lisboners nor tourists could appreciate the vestiges of past times that lodge on the ground floor: a set of structures that dates back to the first occupations of the space, a section important part of the fernandine wall, Roman tanks (cetaria) with quadrangular base, intended for salting and preserving fish (the famous garum), and for remains of Moorish fence ...
The building is owned by the municipality, transferred, by means of a protocol signed in July 2008, to the Foundation for a period of 10 years - in 2018 the assignment was extended for the same period.